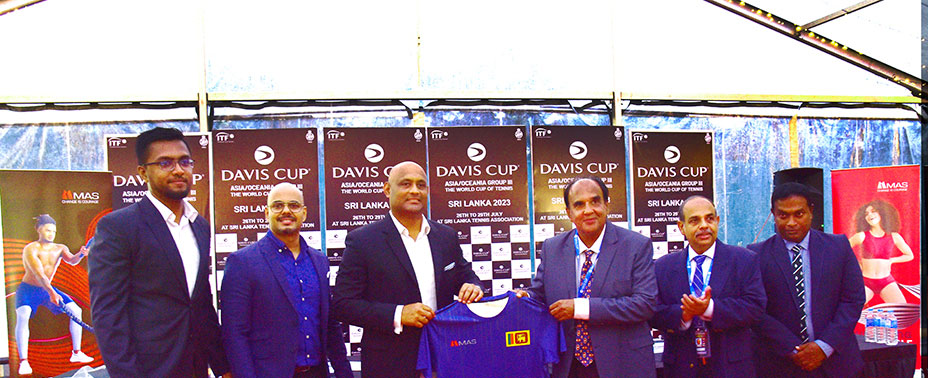 MAS Active and Sri Lanka Tennis Association Join Hands to Elevate Sri Lankan Tennis
18 Aug 2023
MAS Active, a renowned name in the apparel industry and a subsidiary of MAS Holdings, has forged a significant partnership with the Sri Lanka Tennis Association (SLTA). The collaboration, formalized through an official agreement signed on 25th July 2023, designates MAS Active as the esteemed National Clothing Partner of SLTA. This strategic alliance is set to span an impressive duration of 3 years.

In this landmark agreement, MAS Active proudly commits to sponsor all national tennis teams representing Sri Lanka, comprising junior, senior, and wheelchair teams. The scope of this sponsorship encompasses the boys' and girls' teams competing in the 12&Under and 14&Under age categories, as well as the Junior Davis Cup and Junior Billie Jean King Cup teams in the 16&Under age category. Additionally, MAS Active will also be the official clothing sponsor for the prestigious Davis Cup and Billie Jean King Cup teams, along with the men's national wheelchair tennis team.

To commemorate this momentous occasion, the signing ceremony took place during a press conference held at the esteemed SLTA premises, located at Sir Marcus Fernando Mawatha, Colombo on the 25th of July 2023. The event further accentuated the excitement and anticipation surrounding the upcoming Davis Cup, with an official dinner hosted in honor of the participants.

MAS Active Presenting the Official Davis Cup Shirt to SLTA. Pictured from Left to Right: Mafaz Mohideen (Supply Chain Lead, MAS Active), Gihan Philip (Director Innovation, MAS Active), Malik Ahamadeen (Chief Growth Officer, MAS Holdings), Iqbal Bin Issack (President, SLTA), Pradeep Goonasekara (General Secretary, SLTA), and Anupa Maththamagoda (Head of Development, SLTA)

Mr. Iqbal Bin Issack, President of the Sri Lanka Tennis Association, expressed his enthusiasm about the collaboration, stating, "We are thrilled to join hands with MAS Active as our National Clothing Partner. This partnership marks a new chapter for Sri Lankan tennis, and we are confident that with MAS Active's unwavering support, our players will be equipped to compete at the highest level. Together, we aim to elevate the sport and nurture a legacy of tennis excellence in our nation."

This collaboration between MAS Active and SLTA symbolizes a shared vision to advance and elevate the sport of tennis in Sri Lanka. By providing top-quality apparel and unwavering support to the country's national tennis teams, this partnership is poised to inspire the players and contribute to the growth of tennis in the region.

Mr. Gihan Philip's addressing the press conference organized regarding MAS Active's partnership with the Sri Lanka Tennis Association as their National Clothing Partner

Both organizations look forward to an exhilarating journey ahead as they work hand-in-hand to foster excellence in Sri Lankan tennis. Together, they aim to create a lasting impact and foster a generation of outstanding athletes who will proudly represent the nation on the global stage.