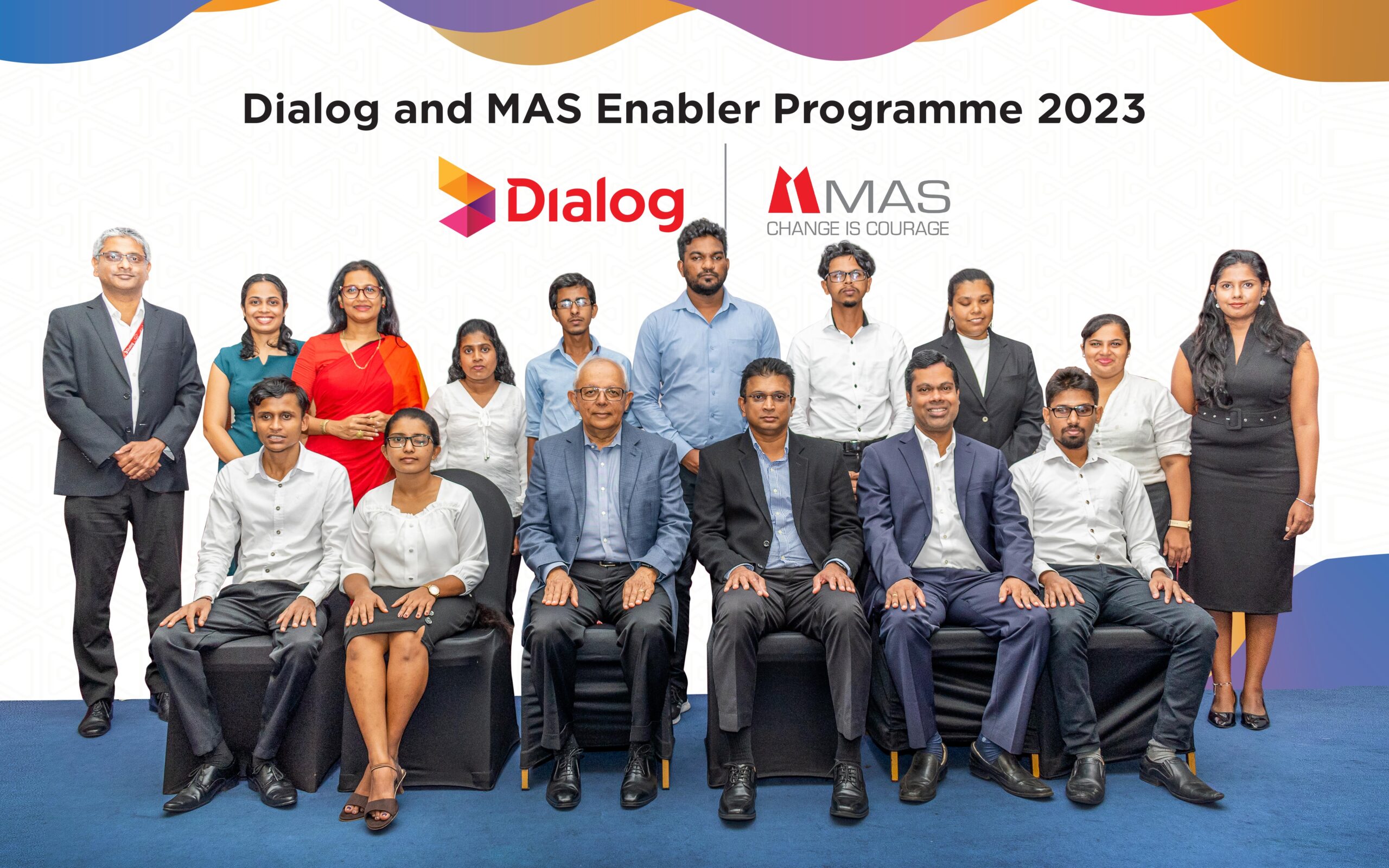 Dialog MAS Enabler Programme Offers Corporate Immersion to Persons with Disabilities
23 Aug 2023
Two-week pilot programme supports university students with disabilities to gain corporate experience
Sri Lanka's premier connectivity provider, Dialog Axiata PLC and apparel manufacturing and technology conglomerate, MAS Holdings, recently introduced the Dialog MAS Enabler Programme to support university students with disabilities gain experience in corporate settings. Nine students, including undergraduates and new graduates from the universities of Colombo, Peradeniya, and Sri Jayawardenapura, with visual, hearing and physical impairments were hosted at the two companies for a two-week period, and exposed to different parts of each business, ranging from operations, product creation, manufacturing to corporate offices and customer service centres.

Recognising the diverse abilities of potential new entrants to the nation's workforce, Dialog and MAS established the Dialog MAS Enabler Programme as a pilot study to not only support the selected students in their professional development, but also to understand how better organizations could prepare and equip themselves to enable employees with disabilities to experience inclusive workplaces.

The programme kicked off with an opening session held at the Dialog Auditorium, where the students were welcomed and received a briefing about the programme. The students spent the next two weeks attending immersion sessions in different business units of the two companies, including receiving exposure at customer facing service centres at Dialog, understanding the product creation and manufacturing processes at MAS, and central corporate offices at both companies.

The students were also able to engage with the MAS Adaptive Centre of Excellence, which is home to its recently launched adaptive apparel solution, Lable by MAS. The two-week programme was concluded with an event attended by MAS chairman and co-founder, Deshamanya Mahesh Amalean and Dialog Group Chief Executive Officer Supun Weerasinghe, where the students were able to share their learnings with the audience.
Commenting, Supun Weerasinghe, Group Chief Executive of Dialog Axiata PLC said, "Dialog continues to be committed to building an organisation that nurtures diverse talent, equitably and inclusively, and the Dialog MAS Enabler Programme is an important step in furthering disability inclusion in Sri Lankan workplaces. We're proud to have collaborated with MAS for this pilot programme and look forward to working with other likeminded corporates to foster further change in our community."

Nemanthie Kooragamage, Director – Group Sustainable Business at MAS Holdings, added, "Through the MAS Plan for Change, we are committed to fostering diversity and inclusion in our workplace, and have been working with to empower colleagues with disabilities within our organization as well as in our communities. Our efforts are focused on the four areas of Employ, Enable, Engage and Empower, and we operate a Supported Employment Officer network that is based on learnings from global best practices. We are encouraged by the immense potential that we see in the students we were able to support as part of the Dialog MAS Enabler Programme, and we are grateful for the feedback they have given us that will undoubtedly help both organizations to better equip ourselves as inclusive workplaces."

As leading private sector employers in Sri Lanka, Dialog and MAS have come together to further their shared vision towards the inclusion and empowerment of persons with disabilities. The Dialog MAS Enabler Programme remains the first step of a journey towards inclusion, that involves not only the economic empowerment, but also shifting the social dialogue around persons with disabilities.
About Dialog:
Dialog Axiata Group, a subsidiary of Axiata Group Berhad (Axiata), operates Sri Lanka's Leading Quad-Play Connectivity Provider. Dialog Axiata PLC, listed on the Colombo Stock Exchange, is the market leader in Mobile, Digital Pay Television, Fixed Telecommunications and International Services sectors, along with a robust footprint and market presence in Digital Services, Financial Services, and IT Services. Dialog Axiata Group is Sri Lanka's largest Foreign Direct Investor (FDI) with investments totalling USD 3.2 Billion. Dialog has been ranked as the Most Valuable Brand in Sri Lanka from 2019-2023 by Brand Finance, UK.

The Company delivers advanced mobile telephony and high-speed mobile broadband services to a subscriber base of over 17 Million Sri Lankans. As the market leader in Pay Television and Home Broadband sectors, Dialog provides world-class entertainment services and superior fixed connectivity to millions of households across Sri Lanka. The Company also has a strong international footprint, including roaming partnerships with over 650 operators across over 200 destinations and investments in multiple subsea cables across Asia.

The winner of six Global Mobile Awards, Dialog has had the distinction of being voted by Sri Lankan consumers as the 'Telecommunication Brand of the Year' for a record twelfth year at the SLIM-KANTAR People's Awards 2023. Dialog is certified for ISO 9001 Quality Management System, ISO 27001:2013 Information Security Management System, and ISO 14001:2015 Environmental Management System. Dialog has received numerous local and international awards, including the National Quality Award, Sri Lanka Business Excellence Award and the ACCA Sustainability Award.
About MAS Holdings:
MAS Holdings, the largest apparel tech company in South Asia, is among the most recognized design-to-delivery solution providers in apparel and textile manufacturing. Home to a community of over 110,000 people, today, MAS spans across manufacturing plants in 16 countries, with established design locations placed in key style centers across the world. Catering to the demands of a dynamic and ever-changing industry, the MAS portfolio has expanded exponentially; into brands, wearable technology, FemTech, start-ups and fabric parks worldwide.

Over 35 years of operations, MAS has gained global recognition for its ethical and sustainable working environment and for the organization's tireless efforts in social development and women's empowerment. Today, the company's efforts to drive positive impact are outlined in the MAS Plan for Change, a commitment to create sustainable change under three areas of focus: products, lives, and planet. Through these initiatives, MAS aims to inspire all employees to be changemakers, enabling dreams and enriching the fabric of life on our planet.

Visit www.masholdings.com for more details.