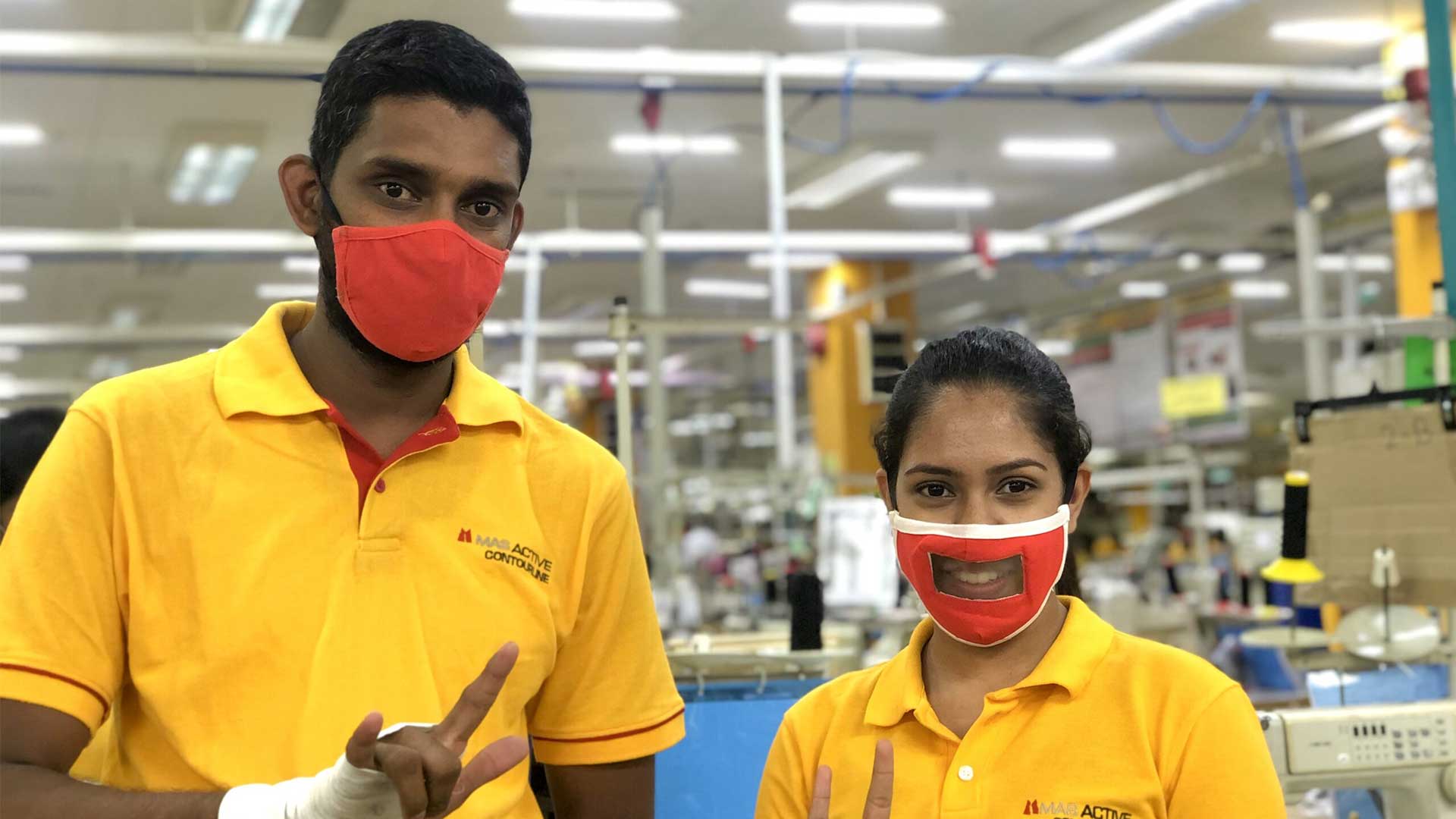 Sustainability and the pandemic: How sustainability can help us build back better post COVID-19
By the current Head of Sustainable Business at MAS Holdings. Having obtained his bachelor's degree in Business Management from Boston University, Sid worked at Virtusa prior to joining MAS in 2016. At MAS, he has worked in multiple roles including production, strategy and innovation, prior to taking up his current role, leading the company's sustainability strategy.

·

17 Jun 2021

Business Solutions

Sustainable Solutions
When the world first heard of the 'coronavirus' back in January, no one could have predicted the devastating impact that it would have on our health, our economies, or our lives. Within a few short months, COVID-19 set out on a swift rampage across the world, pulling children out of schools, keeping families and loved ones apart, and forcing bustling metropolitan cities to a standstill. Healthcare workers worked tirelessly around the clock as this unknown, unprecedented virus spread mercilessly and claimed lives by the hundreds of thousands. Jobs were lost, stores and companies closed, borders shut, travel halted, and economies crumbled under the pressure of a threat we had never anticipated.
The realities unearthed by COVID-19

Since then, COVID-19 has shown no regard for national or transnational borders and continues to discriminate disproportionately against the most disenfranchised. COVID-19 is a glaring reminder of the systemic inequalities in our societies, as the virus widens the gap between the haves and have-nots.

The United Nations Development Programme (UNDP) warns that COVID-19 has risked reversing the progress we have made in sustainable development over the last two decades, with negative impacts on groups such as women and children, persons with disabilities, refugees, and the displaced. The International Labour Organization estimates over 100 million people worldwide will be pushed into extreme poverty just by being unable to afford healthcare.

Women in developing countries, are particularly at risk, as existing inequalities in terms of education, jobs and wages means that women are made more vulnerable and unable to afford healthcare. Across the world, women are also shouldering the greater part of the burden of housework, child and dependent care and children's education, while working full time. Increased time spent at home during lockdowns has also shown greater risk of intimate partner abuse, with reports of domestic violence surging across the world.

The role of sustainability in navigating a pandemic crippled world

Globally, COVID-19 has highlighted the systemic flaws in our current ways of living. This unparalleled scenario offers a unique perspective on how key levers of sustainability, such as access to healthcare, clean water and sanitation, education, building stronger cities and communities, and enabling fair work and economic growth, can help build resilience among people, communities and nations.

Whilst the pandemic has presented a gargantuan challenge to much of the development work being done across the world, it has also shown the importance of continuing to press forward to reduce the inequalities and systemic imbalances that most affect the world's disadvantaged. That is why we must make the most of this once in a lifetime opportunity to bring about real change into how we work, learn, live, and thrive.



Future-proofing our world

While the world has shown resilience in adversity, real systemic change will be required to overcome the crises that we have experienced as a human race. COVID-19 has shown us the interconnectedness of the world and thereby crises; impacting every part of our lives, including the economy, employment, education, safety and security, gender issues, travel and mobility, access to information, among many others. Therefore, our response to this kind of crisis should be holistic, long term, and sustainable, and should integrate economic, social and environmental systems to make sure the solutions we develop are equally interconnected.

The climate crisis, for example, may be the next great global catastrophe that we must face. Many who work on the climate issue have questioned how we can learn from COVID-19 and apply it to mitigate the impacts of the climate crisis. Without global intervention and unified action, we do not have the capacity to resolve the climate crisis, and it has the ability to negatively affect all social, economic, and environmental aspects of our lives. While we work on decarbonisation through green economies, renewable energy and energy transitions, we must also consider factors such as food security, access to health care, education, employment, shelter, and mobility to build a climate-resilient world.

As businesses, we too, need to consider how we can build more holistically resilient organisations. In addition to ensuring financial resilience, how do we future proof the way we operate? During COVID-19, we at MAS made positive strides in this regard, focusing on a wide spectrum from employees, operations, to business continuity.

We have taken stringent measures to ensure employee health and safety, supported our employees to 'work from anywhere', and helped them to better manage mental health, work and family commitments. Factory floors, work shifts, rest areas, and even transport were recalibrated in line with physical distancing protocols to ensure safety as well as efficiency. These practices keep being reviewed and updated regularly; while the risk of COVID-19 still remains, we must continue to be vigilant and agile, learning and evolving to ensure that we remain responsive in an ever-changing crisis environment.

Sustaining businesses and brands

The lockdown periods allowed customers moments of introspection to determine what truly matters to them. This has begun to feed into the business world as the customer asks have changed. They now frequently look for sustainable business practices in the brands they choose to align themselves with. Businesses must note the opportunity, not to go back to 'business as usual' but to challenge the status quo and to innovate for better business models that take into consideration social and environmental needs. Global brands must consider how they can provide more sustainable and long-term offerings for their consumers and create products and services that stand for a purpose.

Sometimes, the most successful businesses are born out of the ashes of downfall. The most iconic companies of our time were conceptualised during recessions, including the likes of Apple, WhatsApp, Slack, Microsoft, Uber, Instagram and more. We too should use this opportunity to re-evaluate our business models, consider the new needs of our consumers and identify what new solutions we can offer them through better products and services that are good for them in the long term.

We must take this opportunity to step back and evaluate our businesses and products, stress test for black swan events that might occur in the future, and innovate to provide solutions for unmet needs, so that just as the myriad of digital platforms built during the last decade helped us bridge the physical distance today, we can cater to the needs of the future in a timely manner.

Sustainable business practices can also help companies stand in good stead amongst their customers, partners, and consumers, by providing long-term partnerships and solutions to challenges that supply chains have in common. Sustainable sourcing can help secure raw material sources, and avoid supply disruptions even during external shocks, while collaboration can also strengthen and add value to value chain systems.

Sustainability also offers a unique proposition to a brand's end consumers. Sustainable products offer these consumers socially and environmentally beneficial, well priced alternatives that can add value to their lives. The new-age consumer is influenced by pertinent issues like #MeToo and Black Lives Matter. Brands such as NIKE who stood on the right side of such issues with their 'Don't Do It' campaign, gave consumers the opportunity to become more personally invested in the product that they purchase, and connect emotionally with what it stands for, essentially creating loyalty and brand love.

People with purpose

COVID-19 proved to be a destructive force to livelihoods and employment around the world. As businesses recuperate, it is important keep putting people at the heart of decision making, and focus on providing healthy and hygienic work environments that employees feel safe and comfortable to work in.

Businesses also have the ability and the responsibility to extend their knowledge and best practices in health and safety out to communities, teaching young children the value of good health and well-being, instilling the importance of environment and positive human impact in young people. When done at a young age, this has the capacity to create lasting behaviour change and inspire the next generation of sustainability leaders.

Sustainability can also give businesses the opportunity to authentically represent themselves and their values to the right kind of talent, as they stand for a purpose beyond profit. Today, great talent has many employment options, and as such, a company's core values become an integral decision-making factor for new talent. In the 2018 Talent Trends Survey conducted by Mercer, employees and job seekers identified three main factors that they look for in a company, which were workplace flexibility, a commitment to health and wellbeing, and working with a purpose.

Another study by the Harvard Business Review found that "an organisation often discovers its purpose when things are going badly," proving that this moment presents the perfect opportunity for companies to pause for inward reflection, and identify whether realigning their values, integrating sustainability and taking a stand for a bigger purpose can help in driving the business forward with the optimal mix of inspired and engaged talent.

Collaborating for success

If COVID-19 taught us anything, it is that we cannot succeed alone. Collaboration moves the needle faster, and times of necessity such as COVID-19 has demonstrated that collaboration can happen with less friction and fewer challenges when we are united by a common goal. In times like these, open innovation allows partners to share ideas, collaborate openly, and redefine what is possible to achieve together.

COVID-19 also showed us what businesses, governments, and other stakeholders can do when working together by inspiring collaboration and coordinated global action; as players joined forces to manufacture Personal Protective Equipment (PPE) and even competitors banding together in the race to develop a vaccine.

Today, with over 25.3 million confirmed cases worldwide, and approximately 848,000 deaths, the world is still struggling to come to terms with the impacts of this pandemic.

While some countries cautiously reopen their borders and economies, others are bracing for second, or even third waves, implementing unprecedented restrictions in their attempts to control further spread of the virus. As the world adjusts to the reality of our 'new normal', we must accept that COVID-19 is a threat that is unlikely to pass in the immediate future. We need to ensure that we create a future that is better equipped to deal with unprecedented events like the COVID-19 pandemic—and by integrating sustainability into how we work and live, we can give ourselves a real opportunity to build back better, stronger, and more resilient.