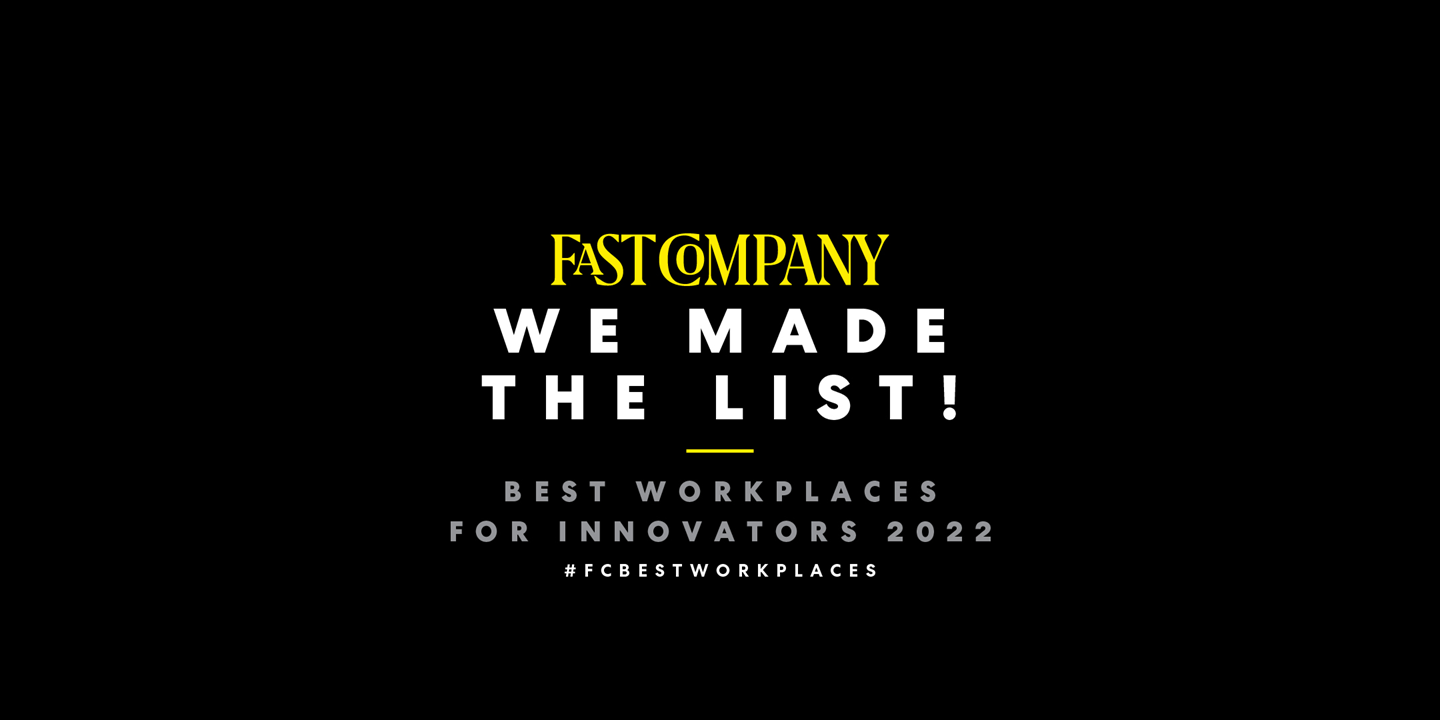 Twinery, Innovations by MAS, Ranks No.18 on Fast Company's Fourth Annual List of the 100 Best Workplaces for Innovators
By Fast Company

·

02 Aug 2022

Design & Development

Digital Solutions

Innovation

Technology
Joining Microsoft, T-Mobile, Adobe, PayPal, and many others
Fast Company today announced its fourth annual Best Workplaces for Innovators list, honoring organizations and businesses that demonstrate a steadfast commitment to encouraging innovation at all levels. Twinery, Innovations by MAS came in at No. 18, for its world class innovative culture and people.

Developed in collaboration with Accenture, the 2022 Best Workplaces for Innovators ranks 100 winners from a variety of industries, including computer science, biotech, consumer packaged goods, nonprofit, education, financial services, cybersecurity, engineering, diversity, sustainability, B2B, and consumer products and services. Fast Company editors and Accenture researchers worked together to score nearly 1,500 applications, and a panel of eight eminent judges reviewed and endorsed the top 100 companies. The 2022 awards feature workplaces from around the world.

"We are thrilled to be recognized by Fast Company! Not only does this highlight the extensive work of our team but it also highlights the fact that breakthrough innovations can happen anywhere if collaboration and infrastructure are enabled", said Ranil Vitarana, Chief Innovation Officer at Twinery.

The head of HR at Twinery, Dineli Jayasekera said, "being recognized by Fast Company really validates the effort we make to foster the right environment for our talent to thrive in by understanding how they operate not just on a professional level but on a personal one as well, enabling them to perform at their peak."

"This year's list of the Best Workplaces for Innovators recognizes organizations that have demonstrated a deep commitment to cultivating creativity across the board," says Brendan Vaughan, editor-in-chief of Fast Company. "In the face of powerful headwinds, these leaders and teams continue to spur innovation."

To see the complete list, click here

Fast Company's Best Workplaces for Innovators issue (September 2022) is available online now, and the print issue will be on newsstands beginning August 16, 2022. Join the Best Workplaces for Innovators conversation using #FCBestWorkplaces.


About Fast Company
Fast Company is the only media brand fully dedicated to the vital intersection of business, innovation, and design, engaging the most influential leaders, companies, and thinkers on the future of business. Headquartered in New York City, Fast Company is published by Mansueto Ventures LLC, along with our sister publication Inc., and can be found online at www.fastcompany.com.
About Accenture
Accenture is a global professional services company with leading capabilities in digital, cloud and security. Combining unmatched experience and specialized skills across more than 40 industries, we offer Strategy and Consulting, Technology and Operations services and Accenture Song — all powered by the world's largest network of Advanced Technology and Intelligent Operations centers. Our 710,000 people deliver on the promise of technology and human ingenuity every day, serving clients in more than 120 countries. We embrace the power of change to create value and shared success for our clients, people, shareholders, partners and communities. Visit us at accenture.com.
About Twinery, Innovations by MAS
Twinery, innovations by MAS thrives on transforming the human textile interface, which puts groundbreaking, life-improving technologies right next to your skin. Tapping into 30+ years of experience manufacturing for the world's largest brands through our mother company MAS Holdings, Twinery is home to over 50 disruptive technologies across materials, lighting, heating, odor protection and haptics. Our innovations transform businesses, enhance lives and reshape expectations. It's not only our solutions that are innovative at Twinery, but also our culture. We bring together world-class scientists, designers, engineers, marketers, and entrepreneurs to create and commercialize the soft goods technologies of tomorrow and bring them to the market today.